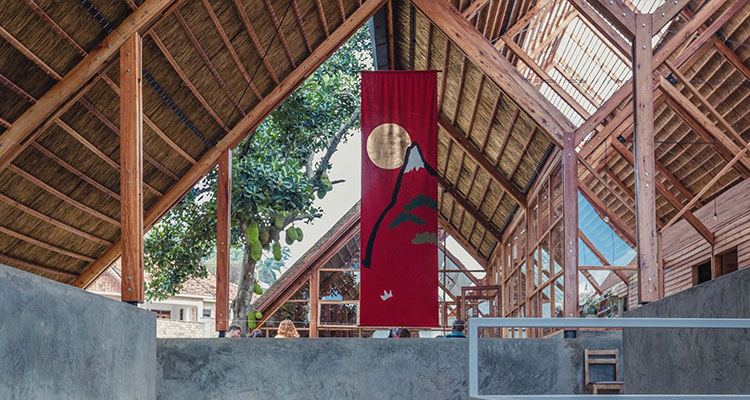 Often referred to as the "Pearl of Africa," Uganda is a highlights reel of rich African landscape. Empowered by the vibrance of its young and growing population, the country is on the cusp of transformative economic growth. Uganda has a history of overcoming challenges, and so does Japan, a country at the opposite end of the spectrum with an aged population and mature technology. Both countries are at their turning points, and our mission is to unlock values from meshing two complimentary cultural and societal traits.



Authentic Japanese Restaurant with Ugandan ingredients
YAMASEN
This is the first restaurant in Kampala operated by a Japanese chef. Applying seasonings and cooking methods that are unique to Japanese culinary art, we showcase the delicacies from Ugandan soil and water. We place great importance on long-term relationships with producers through direct purchases, and sustainable development of the Ugandan food service industry via efforts such as utilizing leftover food and ingredients as crop feeds.

Farm to Table
We operate "Farm to Table", a fresh food and processed goods store within our commercial facility. We also exports sesame seeds and shea butter to Japan. We wish to help close the economic gap between urban and rural areas, by connecting the rapidly developing capital city of Kampala and farming villages where people can maintain their traditional lifestyle.

New Landmark in Kampala
Tank Hill Park is a Good Design Award 2020 Gold Prize winning commercial facility designed by a Japanese architect. It houses one of the most popular cafes in the region, an accessory store run by a Japanese entrepreneur that sells bags using traditional African prints, and uniquely attractive tenants. We bring everyone in the area together.

Fumiko Miyashita

Managing Director

1988 Born in Ishikawa, Japan
2011 Joined the agri start-up Saka no Tochu Co., Ltd in Kyoto, Japan
2014 Graduated from Kyoto University (MA in Cultural Anthropology)
2014 Established Saka no Tochu East Africa Co., Ltd in Kampala, Uganda
2015 Founded COTS COTS LIMITED
2017 Taken over the business of Saka no Tochu in Uganda to COTS COTS LTD.

Yoshifumi Yamaguchi

Head of Restaurant Department

1981 Born in Kyoto, Japan
2010 Established the restaurant "YAMASEN" in Kyoto by taking over the restaurant "TAKEUCHI" from the master
2015 Shifted to Uganda
2015 Founded COTS COTS LIMITED
2018 Opened YAMASEN Japanese Restaurant in Kampala
2021 Opened TEK TEK Kitchen in Kampala

Masahiro Shimizu

Managing Director

1981 Born in Aichi, Japan
2006 Graduated from Kyoto University (BA in Economics)
2006 Joined BNP Paribas Tokyo Branch
2012 Joined Hedge Fund in Singapore
2015 Founded COTS COTS LIMITED

Kazumasa Miyamoto

Managing Director

1981 Born in Osaka, Japan
2009 Joined JICA (Japan International Cooperation Agency) Overseas Cooperation Volunteers program
2010 Established AISUD (Agriculture Innovation for Sustainable Development – Uganda) in Uganda
2011 Appointed as a managing director of SARAYA East Africa
2015 Founded COTS COTS LIMITED
2016 Shifted to Nairobi

Ikko Kobayashi

Director

1981 Born in Hyogo, Japan
2006 Graduated from Tokyo City University
Department of architecture (BA)
2009 Graduated from Tokyo University of the Arts, Department of architecture (MA)
2011 Established TERRAIN architects with Fumi Kashimura
2015 Founded COTS COTS LIMITED

COTS COTS LTD.

P.O.Box 10144 Kampala, Uganda